The customer is a newly emerged copper rod giant in Brazil.
We have provided them, in sequence, with two complete copper continuous casting and rolling lines and several furnaces, 60 to 80 tons. The capacity has been gradually built up from 40 tons/day to 160 tons/day and to 220 tons soon.
The recycling of electrical copper scraps generates big benefits not only to the company but also to the area.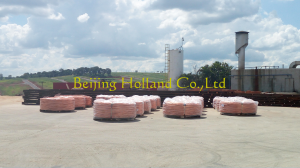 Our Continuous Casting and Rolling Line are tailored to individual requirements.
Our product range includes a broad choice of different performance parameters. We can therefore offer configurations where all the components are ideally tailored to one another – both technically and financially.
Our engineers are always looking for new solutions that serve our customers' needs even better and help them realize additional benefits.