Beijing Holland Co., Ltd.
Beijing Holland Co., Ltd. is established in 1997. We mainly focus on the overall solution and special-purpose machinery with expertise in conductor processing, Non-ferrous recovery, and strip & profile processing.
There are about thirty people in the company. They are in the offices in Beijing, Mumbai, Sao Paulo, and Hong Kong. Most of the employees speak English with excellent engineering backgrounds and some are multilingual.
Our customers spread over thirty countries in Asia, Latin America, and Europe, including multinational companies like Siemens, GE, and Toshiba.
Our services focus on the following fields:
– Conductor projects for copper and aluminum rod, wire, bus bar, Electromagnet wire, and cables.
– Conductor equipment: CCR, upward casting, flat extrusion line, bus bar plating, wire drawing and plating, paper lapping and CTC machines.
– Non-ferrous recovery projects from copper scrap, aluminum scrap, and zinc dust.
– Non-ferrous strip plant projects: casting, rolling, pickling, tension leveling, bright annealing, and slitting
We have supplied more than one thousand machines or lines in the global market. Among them, there have 130 sets of Copper continuous extrusions machines, 40 sets of Upcasting line, 10 CCR lines and more than 300 sets of Notching machines.
The technical route will be always optimized according to the resources and capacity of the projects. All the equipment is at the top in China market. Our experience in project management smoothes the process of implementation. The services are professional and timely. The remote service can help customers enhance strongly the customer maintenance capability.
Certificates of Honor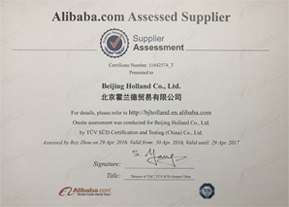 Alibaba Assessed Supplier
ISO cetification